Frequently Asked Questions
What's all this about anyway?
What is a Local Franchise?
Why now? Who's pushing this legislation?
Why aren't our elected Representatives standing up for us?
What are these astroturf groups about?
What are the Cable Companies doing about this?
What can we do?
What's all this about anyway?
Saveaccess is about saving public, educational and governmental access television from legislative oblivion. These are the more than 3000 community facilities running multiple cable channels around the country. These channels offer the only opportunity for uncensored first amendment speech anywhere in the media. But beyond that, they provide the localism and diversity lacking in the rest of the commercial media. More hours of public service media - and more media made by minorities - are produced in PEG centers each year than in all of the commercial media combined (actually - the difference is more than tenfold). Yet this hidden treasure of democratic media is under attack, by corporate greed and political ignorance and neglect. The legislation that moved quickly through Congress in 2006 was a rewrite of the the Tele-Communications Act of 1996, which itself was a revision of the Communications Act of 1934. Communications technology changes fast and there needs to be legislative alterations to improve and create new business environments while also improving and protecting the public interest. Unfortunately the recent legislation in the House, (Barton/COPE Act) only protected the business interests of it's primary patron, the Telephone industry (Telcos) while severely trampling the public interest. The Barton/COPE Act was only the latest legislation, there were many drafts before it. The Barton/Cope Act, as written, would have severely impacted the thousands of Public, Educational and Governmental Access channels and facilities around the country. The legislation effectively removed local municipal control over local rights-of-way and removed local voices from the process of negotiating for local video franchises. In addition, the legislation would have eliminated 'net neutrality' by allowing internet providers (phone and cable companies) the right to charge for preferential content delivery, creating a multitiered internet based on the ability to pay. Even worse, communications providers would no longer have been required to 'build-out' their networks equitably, that is, they could offer the new services in a wealthy neighborhood but neglect an adjacent low-income community (this is referred to as red-lining). The overall effect of this legislation would have been devastating to what we consider to be the basic principles of democratic media in our society, it will effect all of us. At present (1/20/07), the Barton/COPE Act passed in the House in 2006 but the Senate version failed to pass in the 109th Congress of 2006. The FCC intervened on December 20th, 2006 and issued their own version of a video franchise ruling (far worse than COPE). The FCC ruling will likely go to the courts and be in litigation for some time. In the meantime, the telcos have been unrelentless in pursuing State Video Franchises, spending as much as 40 million (in CA) to accomplish their mission. The battle in 2007 will truely be at the state level. Eleven states have fallen so far.
return to top
What is a Local Franchise?
When cable TV was first introduced, the legislation required cable TV providers to negotiate local franchises with individual municipalities. Since the franchises were in effect partial monopolies, the municipalities could choose between competing providers. Most importantly, the municipality maintained control over local right-of-way (access to public areas for running cable, etc.). In exchange for access to the publicly owned right-of-way, municipalities can negotiate for fees and services from the cable provider. These fees and services are what make the Public, Educational and Governmental channels and facilities possible. In addition, a local franchise provided a mechanism for addressing local complaints (poor service) and it insured that build-out and other public interest requirements could be closely monitored. As franchises expire, the municipalities can re-negotiate (either with the same provider or another competitor) and the fees and services can be renegotiated based on real need (such as additional PEG channel capacity for instance). Now that the Telcos have decided to enter the business, they have determined that local franchises are just too troublesome for their business model. The Telcos assert that the prospects of negotiating with several thousands municipalities for local right-of-way would slow their planned deployment and negatively impact on their competitiveness with cable companies (though cable companies have always done this, and many municipalities have offered the Telcos the option of operating under the same franchise agreement). Instead the Telcos want a 'national franchise' agreement. This would pre-empt all local franchises and allow the Telcos to enter any local market they choose without any local oversight or control. Cable companies would reap the benefits of the 'national franchise' as well. The Telcos have also moved to establish 'state-wide franchises' both to set precedent for federal legislation and to have a fall-back strategy should it fail. A number of states have passed the Telco driven state-franchise legislation and we're already beginning to see the negative fallout in places like Texas (see below). National and state-wide franchising do offer recognition of PEG services and provide for some form of continuation of channel capacity and operating fees. In some ways this is a good first step, since there is presently no federal legislation 'requiring' PEG channels and support. But the baselines established thus far are far lower than what is needed and they fail to take into account 'real need' based on local demand and instead default to a statistical percentage. In addition, there is no local oversight or recourse should these agreements be violated. The legislation calls for FCC oversight of the national franchise, a mammoth undertaking for an agency ill-equipped to handle the workload. The legislation would also defer all legal action to the commission, thus preventing due process in the courts.
return to top
Why now - Who's pushing this legislation?
The simple answer is profit, and the Telephone companies are the motivators of this legislation. They are spending tens of millions around the country in State and Federal lobbying to get what they want. Unfortunately, our elected representatives are only hearing one voice on this issue - that of the Telco lobbyists. The Telcos want to offer an array of new video, data and phone services to consumers (i.e. cable TV via fiber), but they don't want to be hindered by the same guidelines and laws that currently apply to Cable TV companies. It should be noted that Telcos have been able, under law, to provide video services for over ten years - they have not done so by their own choice. Instead the Telcos have spent the last ten years engaging in mergers, buy-outs, fiber infrastructure investments, outsourcing and huge layoffs. The result is that only three telephones companies (AT&T, Verizon, Qwest) now serve the bulk of the country (there were 8 regional bell companies after the 1984 split of AT&T). According to telecom analyst Bruce Kushnick, many of the Telco infrastructure upgrades of the last ten years (200 billion dollars worth) were paid for by tax cuts and other incentives granted through the '96 Telecom Act. Now that taxpayers have financed their new fiber infrastructures, the Telcos want even more public concessions.
The Telcos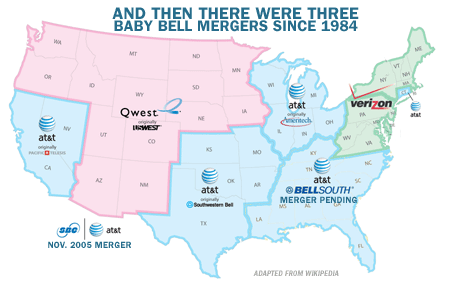 The Ma Bell monopoly was split up by anti-trust legislation in 1984 resulting in seven regional or 'baby' bells. Through mergers and buy-outs only three of these companies now remain (pending the AT&T - Bell South merger announced recently). The three survivors are AT&T, Verizon and Quest. Today they are much stronger than before and combined they control virtually the entire country.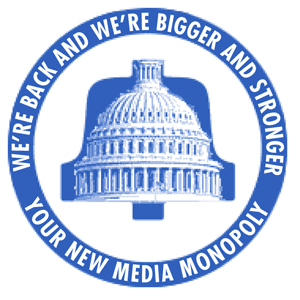 AT&T
AT&T the long distance provider merged with SBC, one of the largest Baby Bells, in 2005. With it's impending acquisition of Bell South
(approved by the FCC Dec. 2006)
, AT&T is on the verge of controlling most of the desirable urban markets in the country. SBC previously gobbled up Pacific Telesis, Southwestern Bell, Ameritech and SNET. The AT&T strategy has been heavyhanded to say the least. In some areas, they are leaning heavily on state legislatures to get state franchises while funding astroturf campaigns to shape public opinion. In other areas they are 'reaching out' and suing small municiplaities, either to get the deals they want or to set examples for other cities in their path (image a 50 billion dollar corporation bearing down a small municipality of 50,000). On the federal level they are a major campaign contributor along with Verizon.
Verizon
Though serving a smaller geographic region than AT&T, Verizon controls the riches of the Northeastern cities and surburban sprawl. Verizon previously gobbled up NYNEX and Bell Atlantic to expand their reach. They too have been pushing heavily for state and national franchising and are also guilty of some of the dirtiest astroturf campaigning.
Qwest
Qwest, originally US West, services largely rural states in the southwest and north west and has the smallest subscriber base of the three Telcos. Qwest has been the quietest, probably because it faces far more difficult infrastructure challenges than AT&T and Verizon who could more quickly capture the richer surburban and urban markets. Nontheless, Qwest will stand to gain like the others from COPE.
return to top
Why aren't our elected Representatives standing up for us?
Good Question - we should ask them! There are two factors at play; first understanding what the issues are, and secondly, the amount of money and noise that is involved. The problem with telecommunications legislation is that it is deals with new technologies and often very technical issues. In many cases our elected representatives simply don't understand the implications of the legislation before them. They rely on those around them to inform and guide their decision-making, and in this case the people they are hearing most are Telecom lobbyists. Combine this with a free market, anti-regulatory atmosphere and you have a recipe for disaster. This is why a piece of legislation as discriminatory and damaging as the COPE ACT can be called the "Communications Opportunity, Promotion and Enhancement Act of 2006" while it's sponsors maintain a straight face. When SBC/AT&T pushed similar state-wide franchise legislation through Texas recently, they spent over seven million dollars and had one lobbyist for every elected state representative and senator. The result, the billed passed. Today in Texas, PEG centers are already threatened and AT&T just announced a consumer rate increase that will net them over two million more in revenue a month. They can pay off their lobbying investment in four months. At present, widespread deployment of video services has yet to start. Then there is money, and lots of it. One of the most coveted committee appointments in Congress is to be on the House or Senate Commerce Committees where Telecom legislation is drafted. Politicians on these committees are virtually guaranteed record political and PAC donations. Alot has been written on the negative impact of political donations, most recently Bill Moyers summed it up in his article
"The Culture of Corruption"
. The point is, most of our politicians will follow the money unless there is a huge public outcry to the contrary. We need to make noise - and lots of it!
return to top
What are these astroturf groups about?
As the Telcos push for their legislation at the state and federal levels, they have funded non-profit organizations to create public campaigns for their desired legislation. These groups are referred to as 'astroturf' or fake grassroots organizations. These astroturf campaigns take the form of print ads, TV ads, and web sites. They sell the public the need for "competition' and "consumer choice" in video/cable TV services and create artificial support for the Telco legislative agenda which in fact has little to do with consumer needs or protections. In some cases these astroturf campaigns have even resorted to borderline mail fraud to advance the telecom agenda. In all cases they have sold the public lies and deception. The public interest group Common Cause has produced a report on astroturf groups, called
"Wolves in Sheep's Clothing"
.
return to top
What are the Cable Companies doing about this?
Cable companies have much at stake in the current legislation. On the one hand, they stand to lose by having another competitor in their market (especially one with possibly a superior infrastructure), but they also stand to gain from the same concessions granted to the Telcos. For this reason they have run counter campaigns in some states where they have been attacked directly, but in other places they have remained silent. For years cable companies have wanted to wriggle out of local franchise requirements for PEG and they would also enjoy reaping the profits to be made by eliminating net neutrality and red-lining requirements. So, while cable may lose its monopoly status in many communities, it could stand to profit handsomely from this legislation too.
return to top
What can we do?
We can do alot, but we need to act quickly. We need to: • organize locally to build strong local bases of awareness and support both in cities and in states to counter the Telco agenda for state and national video franchises • organize nationally to let our elected representatives know that the current legislation is unacceptable - and that it will effect our vote in November! • Tell everyone you know about this web site so they can take action too! • Please take a few minutes out of your busy schedule to SAVE COMMUNITY ACCESS TV! – OPPOSE THIS LEGISLATION!
Send an email to Congress!
Tell a Friend!
Long Story Short: The 2006 Rewrite of U.S. Communications Policy
Long Story Short: The 2006 Rewrite of U.S. Communications Policy By Lauren-Glenn Davitian, Center for Media & Democracy (VT) davitian@cctv.org The U.S. House of Representatives passed a National Video Franchising bill on June 8th 2006. This bill, known as COPE—the Communications Opportunity, Promotion and Enhancement Act of 2006 (H5252)—permits the telephone companies to get quickly into the cable TV business by sidestepping local government approval (franchises) in favor of national service approval from the FCC. The Senate will by Senator Ted Stevens – R/ Alaska, raises many of the same public interest concerns in COPE. By moving into the video business the phone companies will control both access to networks and content, much like the cable companies do today. If allowed to do so under the conditions proposed in these bills, there are serious questions about the future of open networks and prospects for real competition on the Internet (a/k/a net neutrality). Other areas of concern include: local management of the public rights of way, the redlining low income and rural communities and long term protections for public, educational and government access media. A brief look at the telephone industry may help to explain how U.S. communications policy has arrived at this threshold. In 1905, a short twenty years after Alexander Graham Bell launched the first telephone systems, communities across the United States took charge of their communications future and quickly set up hundreds of telephone "exchanges" to connect homes and promote local business. It did not take much longer for venture capitalist J.P. Morgan and Theodore Vail (AT&T's first president) to buy these local exchanges in large numbers and connect them into the one and only national telephone network--known as AT&T. In order to keep the U.S. Justice Department from breaking up their fledgling enterprise, the company cut a deal with the government in 1913 , allowing them to operate as the government sanctioned monopoly in exchange for providing every home in the United States with telephone service--a/k/a universal service. At that time, both policy makers and AT&T understood that the value of the telephone network depended on everyone being connected to it. A generation later, Congress defined AT&T as a public utility—a "common carrier" with fundamental public interest obligations attached to the company's use of the public rights of way (where phone polls are placed) and its monopoly position. The Communications Act of 1934 created and authorized the Federal Communications Commission (FCC) to interpret and enforce universal service, non-discrimination, anti-redlining and consumer protections. The Act required that both common carriers (the phone company) and broadcasters use public resources (rights of way and spectrum) to serve "the public convenience and necessity". The U.S. government has long believed that communications networks are a fundamental tool for economic and community development. It did this, first, through massive public subsidies provided to AT&T in the 1940's and 1950's and through universal service and consumer protections. In the 1970's, with the birth of the Internet, the FCC compelled AT&T to open its networks to competing dial-up data service providers. This is the basis of the "net neutrality" discussions that surround the current rewrite of U.S. telecom policy. In the early 1980's, for a variety of reasons, the government decided that competition was the best public policy of all. As many of us remember, the U.S. Justice Department called a halt to AT&T's nationally sanctioned monopoly and broke the company into seven bell operating companies—meant to compete with each other, engender new businesses and provide customers with cheaper service and more choice. Twenty five years later we understand that meaningful competition did not result from the break-up. Following an initial period of price cutting and new services, all of the baby bells have consolidated into three national phone companies. If the AT&T/ Bell South merger is approved, two will remain: Verizon and AT&T. The 1996 Telecommunications Act was another attempt to protect the public interest through "competition". And again, over the last decade, we have seen a massive consolidation of broadcasters and cable companies. Within the next few months, for example, Comcast and Time Warner will control more than 50% of the cabled households in the United States. At the same time, Comcast is the largest internet portal in the country. The telcos would like to be treated like cable companies. The cable companies operate the networks AND own their content. Cable companies are regulated like "publishers"--not common carriers/utilities--and they don't have to open their networks to competitors. Cable was the first to string fiber optic cable and bring high speed internet and broadband services into U.S. homes. Today, the telcos watch as digital voice services–unregulated by state utility commissions–become the fastest growing revenue generator for the cable industry. Telephone (telcos) and cable companies—once distinguished by different technologies, regulation and business models—are melting together into the same digital bitstream known as broadband. Both industries are seeking to control both the networks AND the content offered to customers. It is no surprise that the telcos want to get into the video business as fast as they can. But they have to "catch up" with cable companies that already have permission (franchises) to provide video service to most communities in the U.S. To this end, the telcos have gone straight to Congress to convince them that it would be good for consumers to let them into the video business as quickly as possible. They are aggressively advancing national legislations that will make this possible--without the historic public interest provisions required of either cable companies or telcos. Both "the COPE Act" (HR 5252) — passed by the House of Representatives by a large margin on June 8th and Senate's Communications Consumers Choice and Broadband Deployment Act (S. 2686) have been, essentially, written by the telephone companies to speed their entry into the national video market place. While promising more competition for the cable companies, both bills have raised concerns for public advocates (of all political stripes) and private companies such as Google, Yahoo and Microsoft. While the telcos seek to use the same networks they use to provide voice and data service they want to be treated like cable companies (with publishers rights rather than utility requirements). At the same time, they seek to bypass the primary means of ensuring that cable companies meet local needs –i.e. the local franchising process. Highlights of the bills: - Local Control of Public Rights of Way – The telcos seek to bypass local franchising authorities (municipalities, and in some cases states) who traditionally issue video franchises to cable companies and go straight to the FCC for permission to operate national video services. While localities may continue to collect 5% of gross revenue as a franchise fee, they lose effective control over their rights of way and determining the local terms and conditions of video franchises (including customer service, build out, support for public access channels and institutional networks). The franchising process is reduced from 180 to 30 days. See: www.natoa.org. - Universal Service Provisions - Using the same networks to provide video as they do to provide voice and data, telcos will not have to build out to every home. Nor are there specific provisions (other than fines) to prevent "redlining" and cherry picking of the most lucrative customers. - Network Neutrality/ Ability to Close Networks to Competitors - Telcos will not have to open their networks to competitors, offer uniform rates to all customers of the networks. Nor are they prevented (as controllers of both the network and content) from discriminating against customers based on the content they send across the networks. (For example, the telcos will be able to charge premiums for high bandwidth users.) See: www.savetheinterent.com - Public Greenspace – Funding and bandwidth for public, educational and government (PEG) is limited to 1% of gross revenues and communities will be able to negotiate new channels every 10-15 years. See: www.saveaccess.org and www.alliancecm.org - Consumer Protections – By moving to a national regulatory structure for video franchises, customers will have to file complaints with the FCC rather than municipal or state cable officers. See: www.consumersunion.org - Municipal Broadband - In the Senate Bill, municipalities may operate their own broadband services – but they have to notify commercial providers first. See: www.freepress.net and www.muniwireless.com The open questions remain—Who will win the race to re-monopolize both the networks and content we rely on in our homes and businesses? How can a "level playing field" policy be created that ensures the public interest is protected in a broadband world? Helpful background: Tales from the Sausage Factory http://www.wetmachine.com/totsf/ Miller Van Eaton Law Firm http://www.millervaneaton.com/ Untangling the Web of Telecom Policy http://www.freepress.net/telecom/ People's Guide to the Telecommunications Act of 2006 www.communitymediareview.org
Your World. Delivered . . . to the NSA
AT&T certainly put a new spin on their slogan "Your World. Delivered" with the recent news (USA Today) that the company willingly turned over the phone call records of millions of citizens to the National Security Agency who requested the information without a legal warrant. The NSA is now in possession of what one employee described as the 'biggest database ever built'. Verizon and Bell South (soon to be purchased by AT&T pending federal approval) followed suit in providing the NSA what they wanted. Only Qwest resisted, by simply saying 'no' and challenging the NSA to follow legal process and produce a warrant (the NSA just went away).

Remember that AT&T was in the news (Wired) in April when an employee leaked information that AT&T had allowed the NSA to build a private switching room that allowed them to monitor all the internet and phone traffic passing through AT&T Worldnet internet backbones. The Electronic Frontier Foundation has since filed a suit against AT&T over these privacy violations which far exceed the recent case of just passing on call records.

"The companies that have betrayed their customers' trust by illegally handing the NSA direct access to their networks and databases must be brought to account. AT&T needs to put a sign on its door that reads, 'Come Back With a Warrant,'
– EFF Staff Attorney Kurt Opsahl

This is all very troubling since AT&T and Verizon are on the verge of overturning years of telecommunications policy with Congressional legislation in the House (COPE - HR5252) and Senate (S. 2686). Neither of these pieces of legislation would exist if not for the heavy lobbying of these companies, there is simply no pressing need for this legislation. The telcos have spent millions buying the attention of elected representatives in state houses across the country and in the capital in Washington. They have spent millions more on 'astroturf' advertising campaigns touting the need for 'consumer choice' and 'competition' in video services. Last we checked, having one's privacy violated wasn't very high on any 'consumer choice' lists.

As part of their new video service, AT&T and Verizon are planning to run fiber to consumers homes providing far more capacity than the current copper wire, hence the slogan, 'your world delivered'. The question is, given these companies willful neglect and irresponsible treatment of their customer's privacy - are you willing to entrust them with the data generated by your TV viewing habits, your online activity, purchases, bank transactions, health and other personal information? We think not - and we think Congress needs to explain why they are about to reward these corporations with new favorable legislation. We must tell Congress that they need to:

1) Stop HR.5252 and S.2686. These bills are corporate give-aways and nothing more.
2) Stop the AT&T-Bell South merger until anti-trust implications can be adequately reviewed.
3) Thoroughly investigate the NSA and the telephone companies and enact/enforce legislation so these abuses can never occur again.

More Information

Section 2702 of Title 18, part of the Electronic Communications Privacy Act, provides that "a provider of ... electronic communication service [including telephone service] to the public shall not knowingly divulge a record or other information pertaining to a subscriber to or customer of such service ... to any governmental entity" without the customer's consent or a subpoena or court order. Under section 2707, carriers face civil liability, including minimum damages of $1,000 per violation, punitive damages, and attorneys fees. Government employees who participated in a violation also may face administrative discipline.

Quote above from Center for Democracy and Technology
Also see: EFF Lawsuit Against AT&T