Wauwatosa residents had expressed safety concerns over AT&T cabinets
Nearly a year before the recent explosion of an AT&T VRAD cabinet in Wauwatosa Wisconsin, some local residents had expressed safety concerns about the large boxes. At a February 12, 2007, City Planning Commission Meeting, residents opposed the installation of a VRAD box and had sent emails and information to the Commission making specific reference to the fires and explosions in Houston Texas.
At the Hearing, a local attorney representing AT&T "addressed the concerns of the emails regarding an AT&T cabinet that had exploded in Houston, Texas. He said that the explosion was one incident out of all the cabinets that have been installed and AT&T is investigating the situation. He indicated that last month there were two sites where the fiber conversion cabinets were located in the city right-of-way. They have been trying to move as many sites as possible into easements with property owners. In this particular location the cabinet is going to be moved at the request of the property owner to a new location that will be in the same area, but further from the sidewalk". Ironically, the location in this instance, 2186 N. 74th Street, turned out to be only ten blocks from the AT&T VRAD cabinet that exploded Dec. 25, 2007. (source: Planning Commission Minutes [1])
AT&T has had a difficult history in Wisconsin . When the company began building out their infrastructure in 2006, they attempted to do so as a 'data service' so they could avoid applying for local cable franchises with area municipalities (as required for cable television operators). This strategy also enabled AT&T to avoid increased municipal oversight of right-of-way which could have impacted on the placement of their VRAD/DSLAM cabinets. But the City of Milwaukee and 26 other municipalities [2] (including Wauwatosa) weren't having it - and they took AT&T to court to force the company to comply with the federal Cable Act.
Having failed at the national level (see: HR5252 [3] and S2686 [4]) in 2006 to repeal and rewrite key aspects of the Cable Act across the country, AT&T turned to state legislatures to push through their own state-wide video franchises. In Wisconsin, AT&T met fierce public opposition and failed to pass the "Video Competition Act" in the Spring 2007 legislative session. That campaign was met with disgust and allegations of fraud when an AT&T astroturf group "TV4us" began a heavy advertising campaign [5] and cited legislators as supporters who in fact were opposed to the bill. [6] The large VRAD cabinets were also a source of frustration [7] and an issue for the opposition in the legislation. AT&T ramped up efforts (and donations) in the Fall and succeeded in getting SB107 and AB207 passed and signed by Gov. Jim Doyle in December 2007 - despite continued widespread opposition [8]. Portions of the legislation were vetoed by Gov. Doyle, but the elimination of PEG funding was overlooked the Governor and will phase out in three years.
Under the new legislation, Wisconsin municipalities do retain some control over placement of AT&T's utility cabinets in public rights-of-way. Yet some communities have continued to impose moratoriums [9] until issues can be resolved. For this reason, in Wisconsin and other states, AT&T is actively seeking easements from private property owners to place their cabinets.
Now that AT&T has promised to replace the faulty batteries that could make these utility cabinets explode, this could be an opportune time for property owners to cash in. You'll no longer have bragging rights to the largest exploding BBQ in the neighborhood, but as these photos suggest - you could claim to have a 21st century HD bomb shelter - quite the status symbol.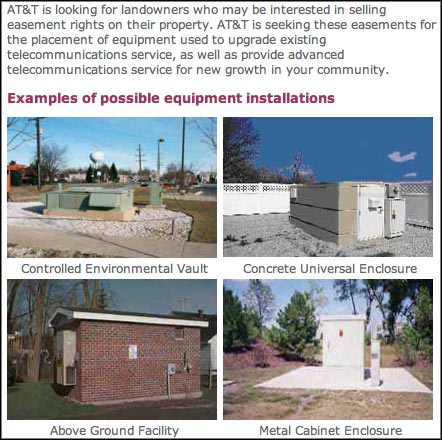 To apply for your own AT&T installation - go to this form [10].
- saveaccess